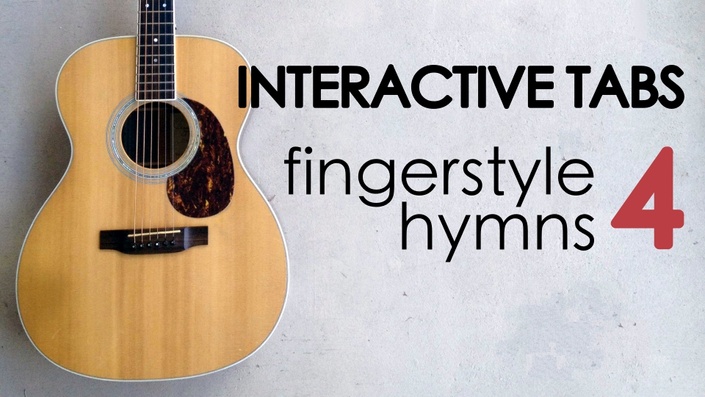 Fingerstyle Hymns Volume 4 Interactive TAB
This interactive TAB will help you save time and play with accuracy
Do you learn faster by watching and hearing exactly how it sounds? If yes, then this interactive TAB is for you.
The video is synced with the TAB

You see exactly what both the right and left hand are doing

You never get lost on where you are on the TAB

You can slow down or speed up or loop specific sections

Also comes with the TABs in PD

And more!
Frequently Asked Questions
What is this?
This is a collection of 10 interactive TABs for the album Fingerstyle Hymns 4. Interactive TABs are feature-rich TABs made to improve learning. The TABs are synced to video with the ability to change the size of the video or TAB, slow down or speed up, loop sections, show guitar fretboard or even piano notes. You can see the marker move and follow the TAB as the video is playing. All the Simple Fingerstyle Hymn albums are split screen videos showing exactly what the left and right hands are doing. You can try out the sample TAB below.
Can I print out the TABs?
Yes, I've attached the original PDF TAB. You can also print out the version you made on the interactive TAB. For example, you can just print out the TABs without the chords or music notation.
Why should I use the interactive TABs? Can't I just learn from the PDF file?
The interactive TABs makes learning easier and faster. It's a great tool if you want to save time. You can see exactly what both hands are doing, see where you are on the TAB, slow down or speed up the tempo, loop sections that you're learning, and much more.
What if I am unhappy with the course?
We would never want you to be unhappy! If you are unsatisfied with your purchase, contact us in the first 30 days and we will give you a full refund.
I am a complete beginner, is this for me?
Yes, the courses give you all you need to get started playing fingerstyle. The interactive TABs gives you lots of options on which songs you want to learn. The fingerstyle hymn arrangements started because I wanted to give my Skype students musical pieces that weren't too easy, but also not too hard, and at the same time did not sound like it came from a children's book. I wanted something that would teach them fundamental fingerstyle techniques. I also wanted it to be useful for church services or personal worship time.
TRACKS
1. A Mighty Fortress Is Our God
2. Be Still My Soul
3. Come Thou Long Expected Jesus
4. I Stand Amazed (My Saviour's Love)
5. Just As I Am

6. My Jesus I Love Thee
7. Praise God From Whom All Blessings Flow
8. Rock Of Ages
9. The Solid Rock
10. There Is A Fountain